Permanent Makeup: Microblading Hairstroke & Ombré Eyebrows
Eyebrow Restoration:  Kristine Kay has been shaping eyebrows for 20 years as an Esthetician and Makeup Artist.  She was introduced to Microblading Eyebrows in 2013 by Irina Levchuck of Lash & Brow Academy, Moscow, Russia.  Kristine saw this form of permanent makeup as a solution for her clients with sparse eyebrows.  Women can have very little to no eyebrows due to Alopecia, Trichotillomania, Thyroid issues, genetics, over-tweezing, and the natural aging process.  She has now performed over 4,500 permanent eyebrow procedures.  Kristine is a Licensed Tattoo Artist certified by the Missouri State Office of Tattooing.
With a background in Fine Arts from the Kansas City Art Institute, Kristine Kay has an exceptional understanding of color, design and style. Her eye for detail combined with a steady hand and artistic skill ensures that her work is consistently reflective of the very highest standards.  Now she brings her artistry, knowledge and expertise to the art of permanent makeup.
Microblading is now synonymous with the modern "Soft & Natural" look of permanent makeup for eyebrows. People often refer to the old harsh style as a Brow Tattoo.  But, Microblading is a Brow Tattoo.  It is technically done with a manual tool to etch the pigment into the skin.  Many advances have been made in permanent makeup (PMU) in the past 5 years.  The quality of the machines have vastly improved and with the introduction of nano needles, PMU artists can now create delicate hair strokes without causing trauma to the skin.  Kristine prefers the machine method over the manual method of tattooing
THE 3-STEP PROCESS
Consultation
A full and in depth consultation is required to understand your suitability and expectations of permanent makeup. A consultation form will be filled out to ensure that we have all the medical information necessary for the procedure. Please wear your eyebrow makeup to the consultation. Your photo will be taken with & without the makeup. The design will be discussed to ensure that we have the same vision for the end results. During the consultation we discuss any questions that you have and determine if you are a good candidate. Please note: The Consultation & Procedure cannot be on the same day. We cannot set aside time for your procedure since some people do not qualify. If you have previous permanent makeup, the pigment must be very light (faded) and not deposited too deep . If it is too dark or the shape must be corrected, then a tattoo removal process may be the best option. A phone consultation is available if you are traveling from another state (3+ hours). Click here for instructions on setting up a Consultation.
Initial Treatment: 1st Session (Saturation Visit)
Your photo will be taken so that you can see the change in your look before and after the treatment. A topical anesthetic will be applied to numb the area to be treated for your comfort during the treatment. Your eyebrow color will be chosen and the brow design will be drawn and fine tuned until you are satisfied. The manual microblading technique allows Kristine to create crisp, fine hair strokes that fill in thin brows, brows with bald spots, total reconstruction and even alopecia. The 3D microblading hairstroke technique mimics your own eyebrow hairs thus creating a feathering effect. This innovative technique is far more natural looking than a solid fill. When the treatment is finished a topical cream is applied. You will be given instructions and an after care product to take home. The treatment area may feel sensitive. Please follow the Post Care Instructions and see the Healing Schedule for expectations.
Follow Up Treatment: 2nd Session (Refinement Visit)
You will be booked in for your follow up treatment to enhance and complete the final adjustments. This will ensure that your beauty enhancement will be long lasting. Your Refinement Visit can be anytime between 6-8 weeks from your initial treatment. This appointment is required and booked at your Saturation Visit.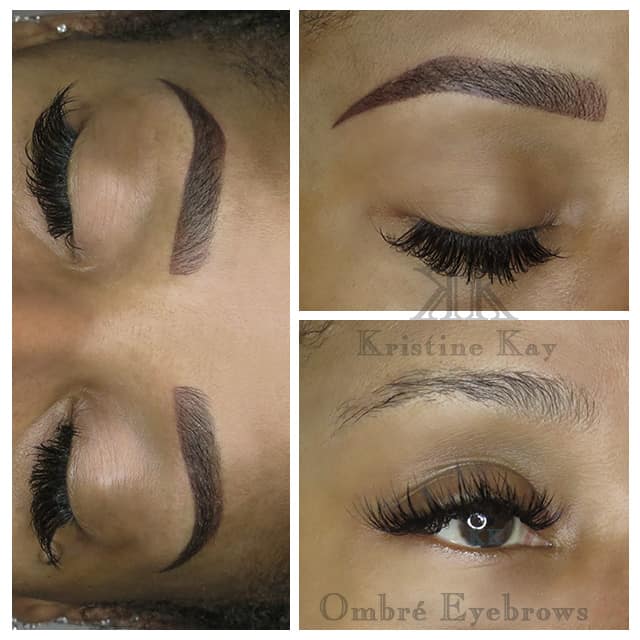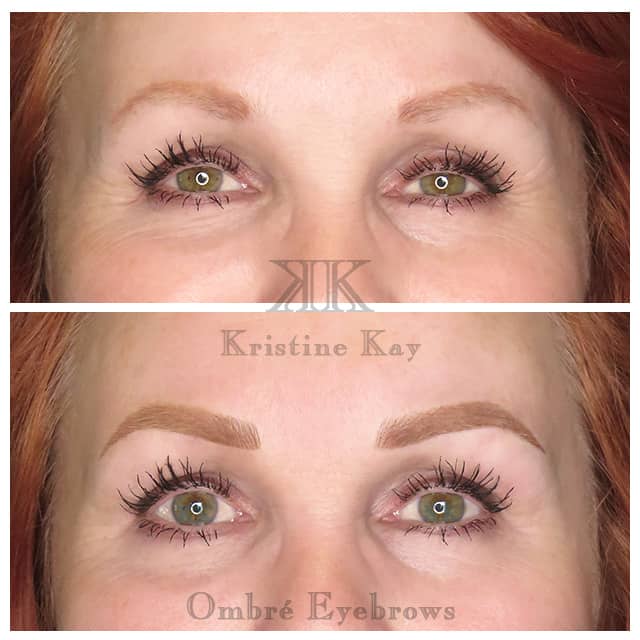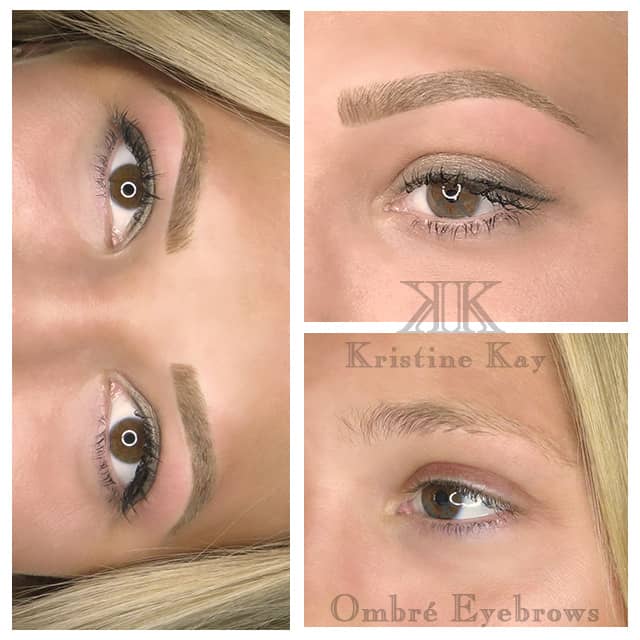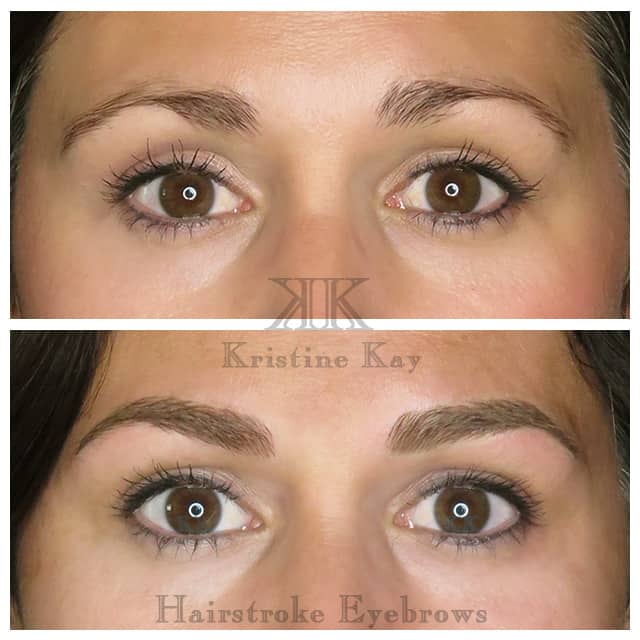 Permanent Makeup Fees
Consultation
(30 minutes):  $50
Hairstroke Eyebrows – Microblading – Ombré Brows
New Clients
1st Session (3 hours): $750
2nd Session (2 hours):  $250
Existing Clients
Color Refresher (2.5-3 hours):  $750
2nd Session (2 hours):$250

* Booking Fee:  $100 (non-refundable) *read Policies
** All Existing Clients should text Kristine to set up their Color Refresher appointments.
What is permanent makeup?
Permanent Makeup is the process which sterile hypoallergenic cosmetic pigments are placed into the dermal layer of the skin using individual disposable sterile needles. Permanent Makeup is not the same process as in conventional tattoos. We use different pigments for the face, not carbon ink. It's called permanent because even though it fades, particles remain in the skin. The areas to be treated are numbed using approved topical anesthetics to make your experience a comfortable & pleasant one.
Is it really permanent?
Yes & No. Only the finest permanent makeup products/pigments are used and they soften/fade in color over time… typically 1-5 years. Even as the permanent makeup fades and becomes less visible, there will always be particles in the skin forever. The natural elements, anti-aging creams, sun exposure, sweating, tanning beds and just age of the permanent makeup will cause fading in time. It is recommended to get color boosts to freshen up the permanent makeup to maintain its natural look.
What is recovery and healing time?
Healing time varies from person to person. With proper topical anesthetics & numbing, swelling will be very minimal. Written instructions and aftercare products are sent home with you. The treated area will begin to soften/lighten up within 10-14 days. It is recommended that you have your follow-up appointment 6-8 weeks following your initial procedure. Then every 2-3 years for a color boost.
What is the Hairstroke Technique?
Hairstroke technique can be manual (Microblading) or with a machine. It implants the pigment into the skin in hair-like strokes to give the appearance of hair. The Microblading technique is becoming more common and popular in the Permanent Makeup industry. Keep in mind that this technique will require color boosts every 2-3 years to maintain its natural appearance. The hair strokes with time will fade, blur and look more powdered. The aging of our skin and tissue will affect the appearance of your permanent makeup. They will need to be refreshed.
Kristine Kay provides Microblading services convenient to Kansas City, Overland Park, Leawood, Prairie Village, Brookside, and Lee's Summit. Her clients also travel from South Dakota, Iowa, Nebraska, Kansas, Missouri, Oklahoma, Arkansas and Texas.