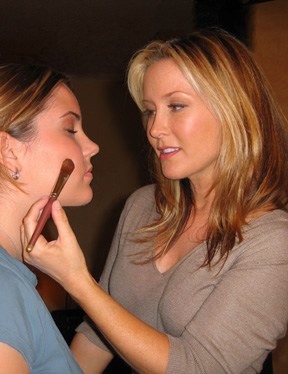 Kristine Kay
At the age of ten, Kristine Kay was fascinated with transformation of the human body through diet/exercise, makeup/hair, and cosmetic surgery. Kristine has turned a childhood desire to help people look their best into a sucessful career as a permanent makeup artist and brow specialist in Kansas City.
After attending the Kansas City Art Institute, Kristine's career began as a fashion photographer. She spent the next few years in California and found herself drawn to do makeup and the move proved to be a great fit. As a makeup artist in Los Angeles, she has done national advertising campaigns for Prada, DKNY, and Sony. A few of the celebrities that Kristine has had the pleasure of working with include Christina Aguilera, John Mayer, Jim Carrey, Bo Derek, and Heath Ledger.
As an aesthetician, Kristine has been equally celebrated. She is described as having a "Zen Touch" and her facials are "the perfect balance of Art & Science". She is always seeking out the latest technology and results-oriented techniques for her clients.
With her professional expertise and interest in helping people obtain their beauty objective, Kristine finds that educating her clients to demystify makeup and skincare for people outside of the entertainment industry, to be a very gratifying experience. "It feeds my soul to help women not only look beautiful, but feel beautiful".